Welcome to my July 2016 Monthly EyeEm Income Report!
Whenever my photos sell through the EyeEm Market I will give you a detailed monthly report that shows you exactly how much you can make on EyeEm, including EyeEm Market, the EyeEm x Getty partnership and the EyeEm x Alamy partnership. I'll also share any lessons learned, the photos that sold and the exact dollar amounts from each of my photo sales. So, to answer the question: 'how much do you make on EyeEm?', here goes!
Latest Goings On In July
This month I take a look at where one of my favourite images has been used online and enjoy a nice little feature for one of my latest images on the EyeEm blog.
Just in the nick of time I was notified about one of my images from a recent diving trip in Phuket being featured on the weekly EyeEm image roundup: This Week On EyeEm 30.
I've had many other features on the EyeEm blog before and, although I can't draw any direct correlation between getting featured and image sales, it can only be a good thing that more people are aware of my photos.
Meanwhile, after yet another sale of one of my favourite photos from Japan sold this month I decided to do a reverse image search to see where it has ended up so far.
Jade and I had rented bicycles and were cycling around to see the incredible Mount Fuji from as many different perspectives as we could. The intention wasn't really to go out looking for photo opportunities but once I had clicked the shutter in the direction of the mountain a few times I was hooked! Sometimes you just come across a subject or a scene that makes it feel like you are cheating: it was all just so beautiful and photogenic!
The problem was of course that thousands of people will have stood in the same place as I was and will have taken the same photos. I needed something that made it different and the solution was simple:
Everyone may have seen the mountain before, but they haven't seen Jade and the mountain together. After all, this is the first time the two had come face to face and I was there to capture it.
Not only was I able to create a unique shot (thanks in part to her choice of hair style for our excursion) but I was also able to capture a memory that means a lot to me.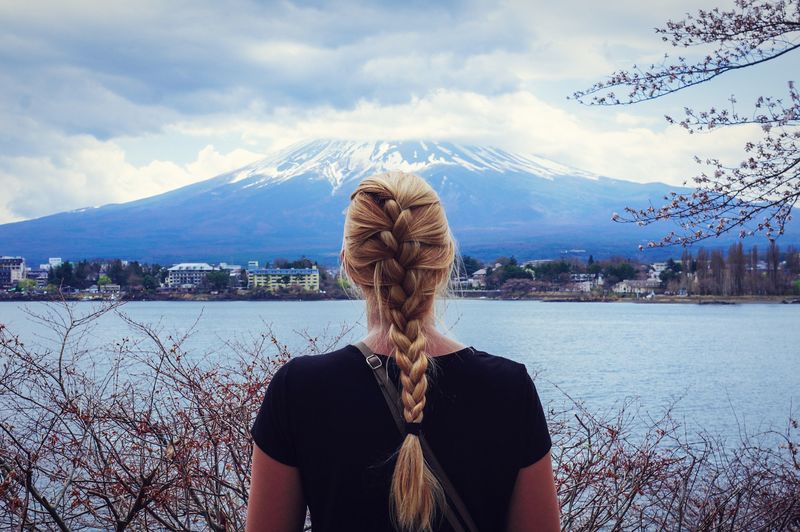 Here's some of the places I've found this image being used online:
EyeEm Photo Sales & Earnings Breakdown
The following figures show the exact earnings I have received by selling my photos on the EyeEm Market. These numbers show the exact amount available for me to withdraw into my bank account.
Total to date: $1,031.37
The 'total to date' amount is the grand total of all earnings made from selling photos on the EyeEm Market, up to and including this month.
Total this month: $73.37
The 'total this month' amount counts all sales that happened from the 1st calendar day of the month to the last.
Number of images sold this month: 8
The 'number of images sold this month' amount is also based on the 1st calendar day of the month to the last.
Images That Sold This Month
Here are the images that sold this month on EyeEm, including how much I received from their sale and through which EyeEm Market partnership (if any).
Lessons Learned In July
Travel photos are big business, you only have to look at how big the travel industry is to realise the potential here. The problem for most of us is getting a seat at the table – there are already so many great travel photos out there that the market is saturated! But (and it's a big but) don't let this put you off. I'm sure Mount Fuji has been photographed countless times from every angle imaginable, but what can you offer that makes it different? What is it about you, your style or your situation that makes it unique?
If you take the image of Jade and Mount Fuji as an example, how would it change if you were to take it? Maybe you explore with your dog so you'd capture the shot lower (and probably make it much more cute), perhaps you would have included the bicycle in the shot too, or maybe you would have been there by yourself? How would your perspective change the image?
This is something that I too find myself battling with, as I expect many of us do. We go somewhere new and assume that it's all been done before so why even bother? "Great, just another photo of a mountain" you might say to yourself, but give yourself a gentle reminder that the shot is as much about you as it is about the thing your lens is pointed at.
Got any questions? Let me know in the comments below. Good luck next month!