If you're finding it hard to find a proper burger in Bangkok, look no further than The Burger Factory.
With a dazzling array of dishes on the menu, a cool, chic industrial interior and a warm, cozy and welcoming vibe, The Burger Factory ticks all the boxes and is one of the most talked about burger places in Bangkok.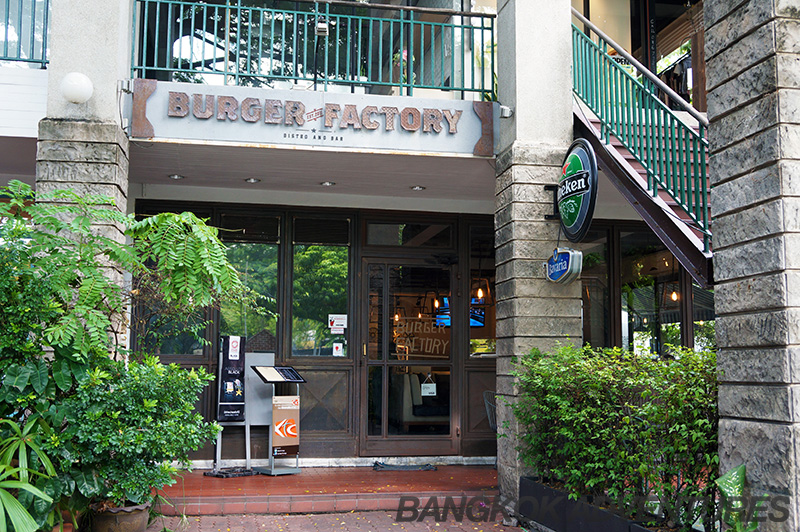 This place has a big, varied menu, but let's start with the old favourite, the classic beef burger. You can have this with your choice of cheese, bacon, caramelized onions, and spiced mayo.
The beef burgers are cooked to perfection, done to your liking (we ordered ours the recommended medium) and absolutely delicious!
The Burger Factory uses only the highest quality beef, imported from Australia and ground in-house – which is one seriously impressive commitment to the humble burger.
If that wasn't enough, we discovered that most things on the menu, from the buns to sauces, are all made at the restaurant – hence the name 'factory'!
For many people, us included, burgers have a special place in our hearts. It's one of the greatest foods ever invented (right up there with pizza) and everyone has their own idea of the perfect burger.
Luckily, The Burger Factory offers a variety of customisations and a selection of additional toppings such as bacon, avocado, egg and onion rings so that you can customise your burger and really make it your own.
The Burger Factory menu caters well for non-meat eaters too, with a fish and vegetarian burgers also on the menu. And, if you'd rather not have the bun, you can have your burger between two lettuce leaves instead!
We love these thoughtful options, and this means we have no problems bringing our veggie, vegan, and gluten-free friends here.
All burgers are served with a side dish, a choice of house made potato salad, French fries, criss-cross fries or (our favourite) curly fries!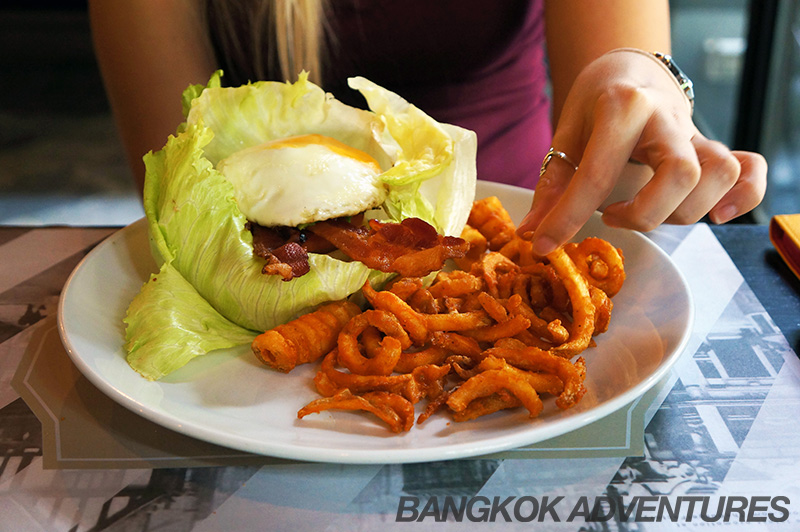 The Burger Factory also offers a few other meal options such as BBQ ribs, salads, pasta and a variety of desserts. We've never made it to the desserts because the burgers are very filling, so if you do be sure to let us know what you think.
To wash it all down, The Burger Factory offer a great range of imported beers, some tasty cocktails and a variety of sodas. Our usual choice and, since you asked – our recommendation,  is the Cherry Cola and the Oreo Milkshake.
We'd recommend this place for its excellent range of delicious, well-made and expertly cooked burgers, choice of beers, and the welcoming atmosphere which keeps us returning to The Burger Factory for our burger fix.
The Burger Factory is open from 11.30-23.00 Sunday-Thursday, and until midnight Friday-Saturday. You'll find The Burger Factory on Ekkamai Soi 10, opposite Health Land. The closest BTS Skytrain Station's are Thong Lo or Ekkamai.