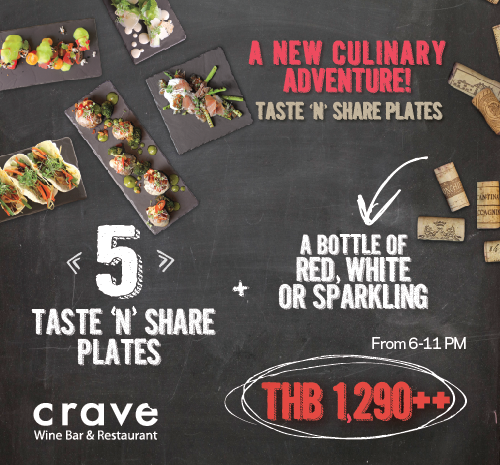 This is a really easy win competition that will bag you a meal for 2 (sharing platters) at Crave worth 1,290++thb. The prize is a 'Pop Clink Munch' dinner package valid until 31st December. The package includes 5 taste 'n' share plates and a bottle of red, white or sparkling wine. And this is how you win –
The first thing to know is that this is not a well known competition and your chances of winning are almost guaranteed – although the more people who read this will limit your chances. A few weeks ago I was the only person who entered and the week after I told my girlfriend to enter and she won too – because no one else entered!
So, you will need –
A smartphone with Instagram;
A Saturday night out at W XYZ Bar, 500thb per person Cocktail Marathon (9pm-midnight every Friday and Saturday) for unlimited cocktails, liquor, beer and wine;
A pinch of creativity (but only a very small pinch).
Simply head out to W XYZ Bar and order your drink, I recommend the Smoked Apple Jack but any drink will do, then fire up Instagram. Now start taking photos of your drink!
I mentioned before you will only need a dash of creativity – this is because you are likely the only person who will be entering the competition. Have fun with it and post the photo to Instagram with the tag #Sipadrink.
And that's it! Just don't forget to tag the image as this is the only way that entries are checked. Also if you are curious you can search the #Sipadrink tag yourself and see what everyone else has put on there – not a lot!