It's no secret that Thailand has a thriving tattoo industry, but it always pays to be extra cautious when choosing a tattoo artist. Although tattoos are not as permanent as they once were (thanks laser treatment!), getting a badly designed tattoo – or an unskilled tattooist to do it – can be heartbreaking.
Luckily Thailand is home to some of South East Asia's best professional tattoo artists, and Tong at Demonic Ink Bangkok is no exception.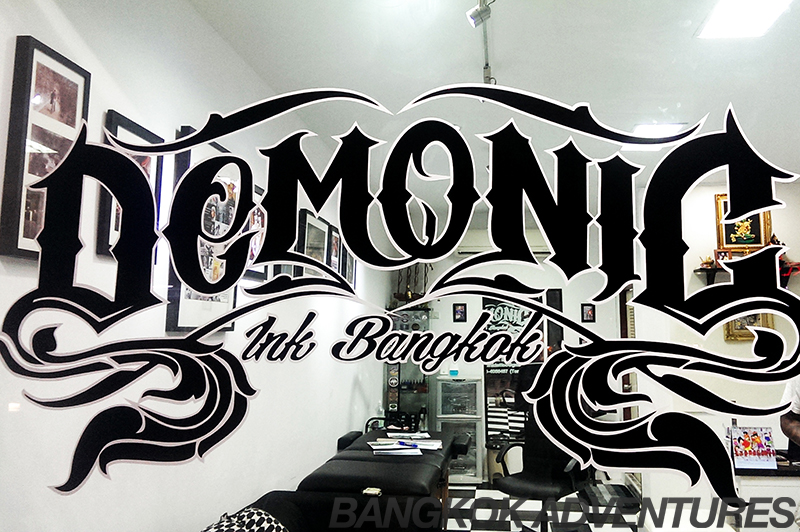 Owned and run by Thai tattoo artist Tong, the brand new Demonic Ink Bangkok tattoo shop could be the only place you need to know about for all of your tattoo desires.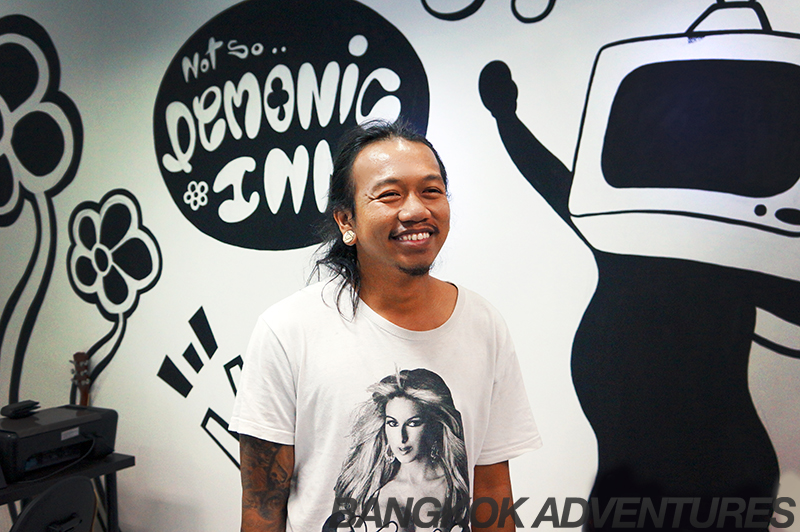 With a love for tribal and aztec style pieces – and recently winning himself 2nd place at the 2014 Hua Hin Tattoo Convention in the Tribal Category – Tong lends his remarkable skills to a huge variety of tattoo styles and designs.
His work ranges from simple Sak Yant and Hah Taew Thai style tattoos (sometimes called the 'five sacred lines') to large, full colour custom artworks. For a better idea of the kind of custom tattoo designs Tong is capable of check out the Demonic Ink Facebook page (you'll find the link at the bottom of this post).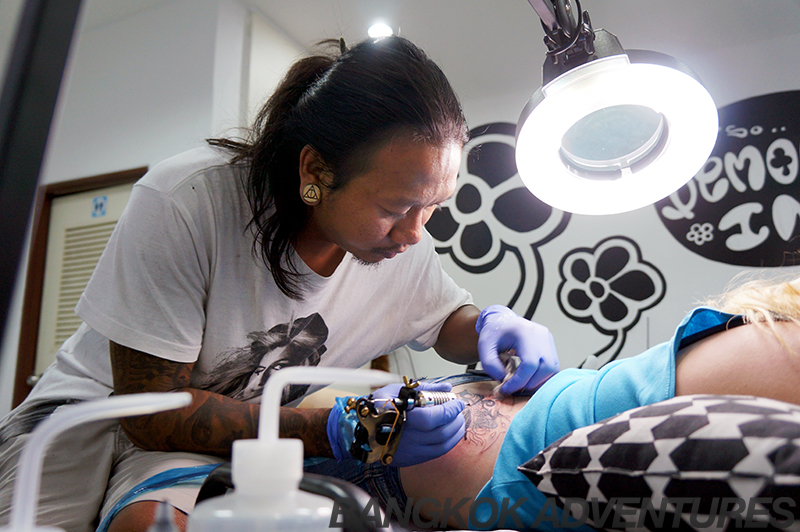 The custom tattoo designs at Demonic Ink are where Tong's talent truly shines. We introduced Tong to you as a 'tattoo artist' deliberately – he is, in every sense of the word, an artist. He can take an idea or a rough concept and provide it with the creative spark that it needs to develop it into a design that exceeds expectations.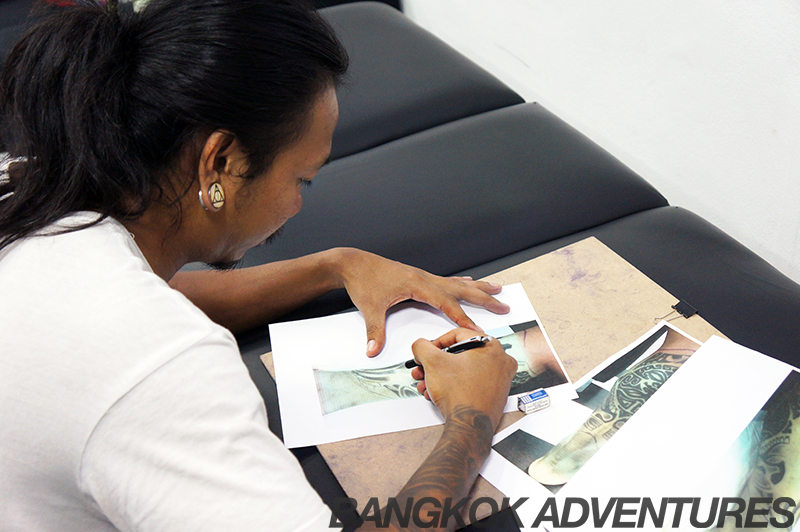 We are such big fans of Tong's work at Demonic Ink that so far we have even recommended many of our closest friends and family to get tattooed by him. And you'll be glad to know they've all be so impressed they have all gone back for more.
Demand from our friends and family was so high in fact that Tong – who at the time was setting up his new studio – spent an entire Saturday and Sunday tattooing people in our apartment.
People travel from all over the world come to Bangkok in search of a good tattoo artist who can do the sacred Sak Yant tattoos – the traditional artworks that are believed to bestow good luck, magic, or protection.
Sak Yant (which includes the Hah Taew) is often performed by buddhist monks using bamboo spikes, however many people have concerns about the hygiene of bamboo needles and may be uncomfortable with not knowing the level of skill and tattoo experience the monk has.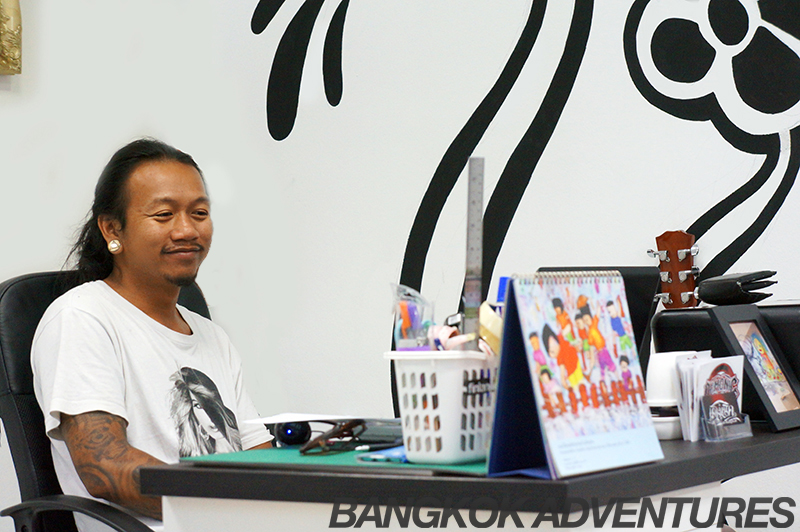 Instead, many opt to visit a tattoo shop like Demonic Ink to receive their Sak Yant tattoo in the comfort of a clean studio with professional, modern tattoo equipment for complete piece of mind. Sure, you miss out on the experience of being tattooed by a monk, but the end result is a pin sharp Sak Yant that you'll love.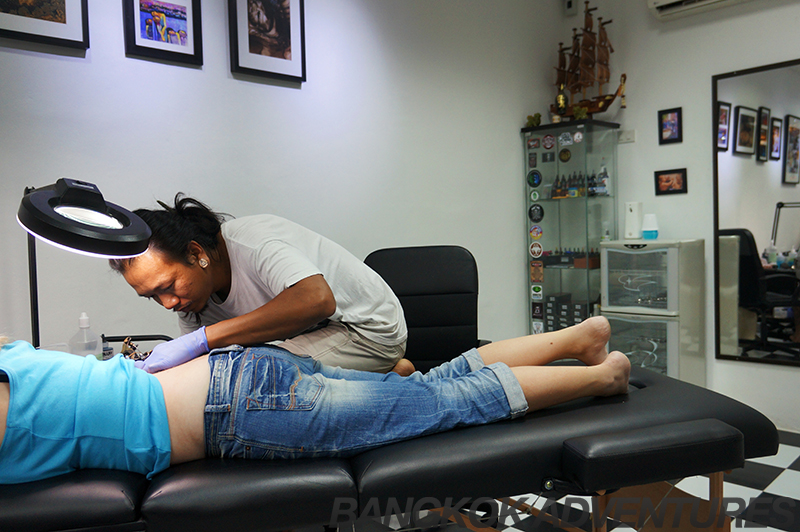 Tong is a wickedly talented, funny, and friendly guy who will labour carefully over your desired designs, working with intense focus and precision. He is also a perfectionist; someone who takes his time to make sure your tattoo is really something special.
Demonic Ink Bangkok also deals with retouching and tattoo cover-ups – this is another stand out area for the studio and we have seen with our own eyes the creative ways that he has transformed poor quality tattoos into something fresh and unique.
The high level of service together with Tong's attention to detail make the Demonic Ink Bangkok tattoo studio stand out in a crowd.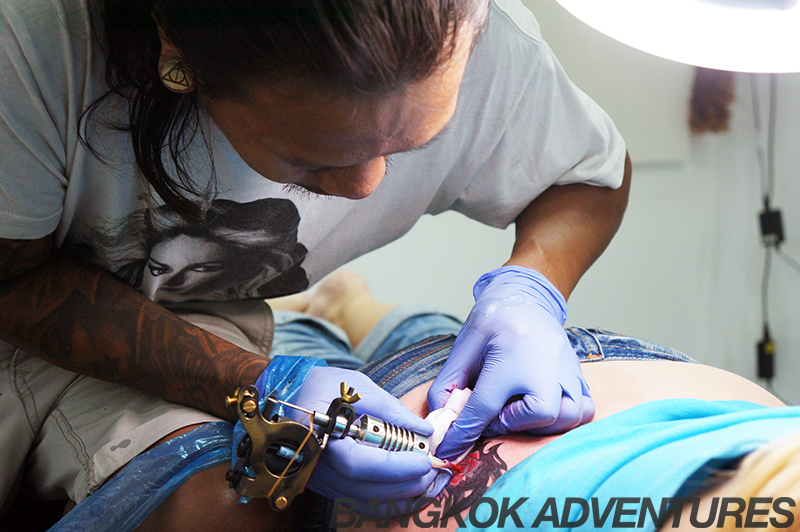 Take a look at the Demonic Ink Facebook page and see the the latest tattoos and conveniently message them about your own tattoo.
To get to Demonic Ink we recommend taking a taxi directly to the studio which can be found at 286 UW Square 10, Ramkhamhaeng Soi 24, Huamark, 10240, Bangkok.