Bangkok has plenty of great places to grab a burger, but finding a place that specialises in quality hot dogs is not so easy. Fortunately, Bangers is here to fill your cravings with its British style sausage-dogs, American style hot dogs, and delicious selection of thick milkshakes.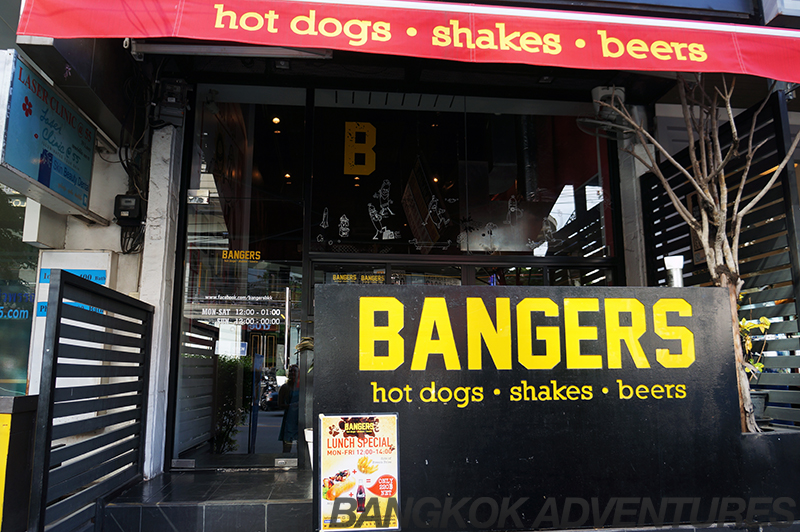 Bangers has a special place in the Bangkok Adventures history because it's the place where we held our first ever Bangkok Adventures Meetup! But we have to be honest; when we were arranging our first ever Meetup at Bangers we were a little bit nervous.
With a whole bunch of people all coming to eat we had no idea if there would be something on the menu to suit everyone. Luckily the menu caters to many different tastes (more on that in a minute) and the entire team at Bangers were fun, friendly and made sure that everyone had a great time.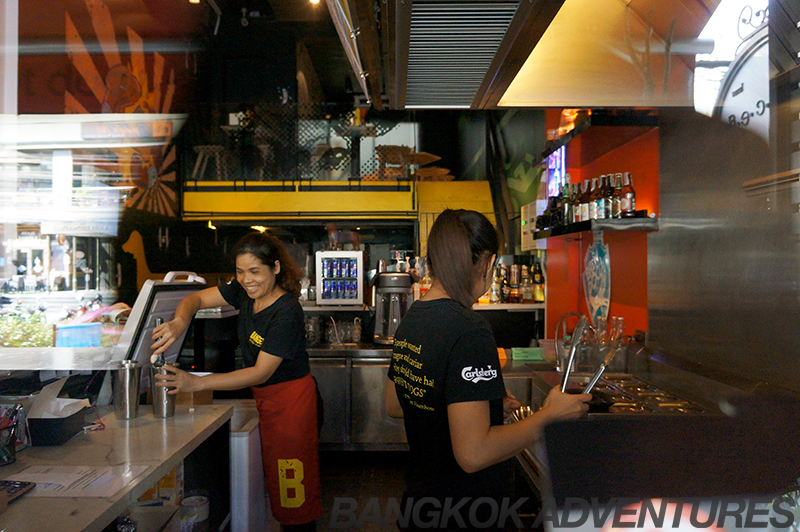 The small restaurant is spread over two floors and has a modern, arty and hip decor that adds to the fun atmosphere.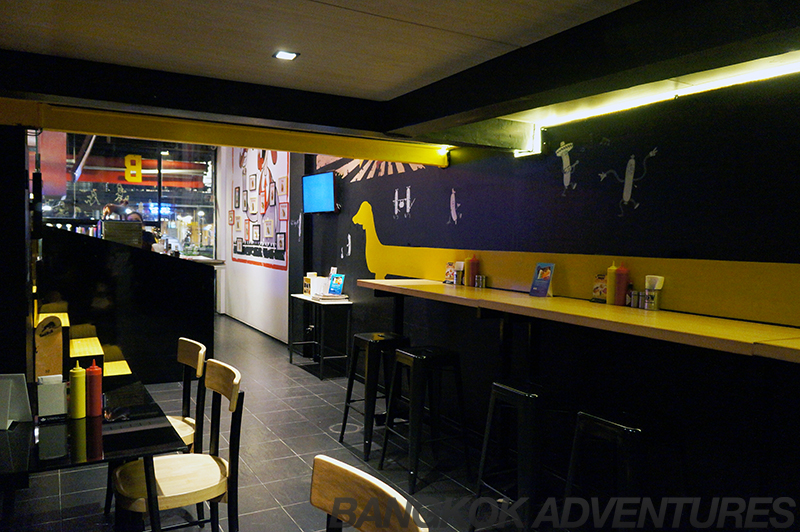 Bangers is a place where you can expect to hear people laughing and joking when you walk through the door. A place where you can hang out with your friends and enjoy some great food, a few beers and some friendly banter.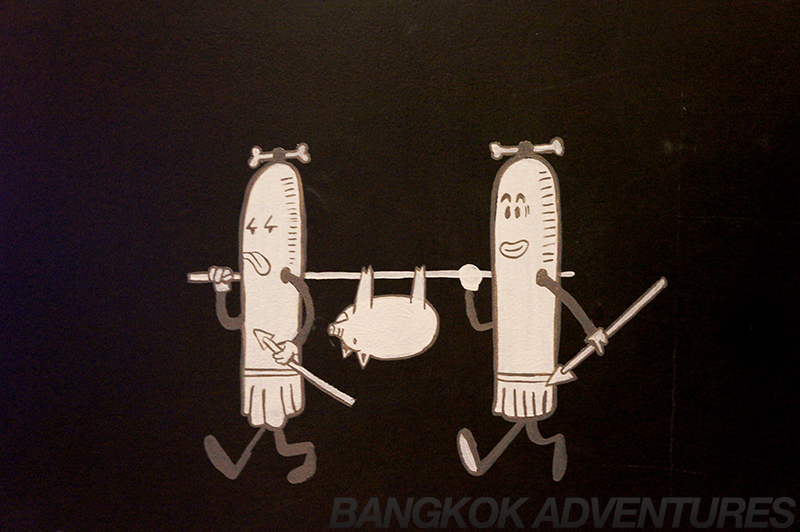 The tongue-in-cheek artwork that can be seen around the hot dog joint adds to the cool, laid back vibes. And the fun doesn't stop there either; the entire restroom at Bangers is covered in graffiti and you can even pick up one of the marker pens to leave your own mark (check the walls for our little contribution too!).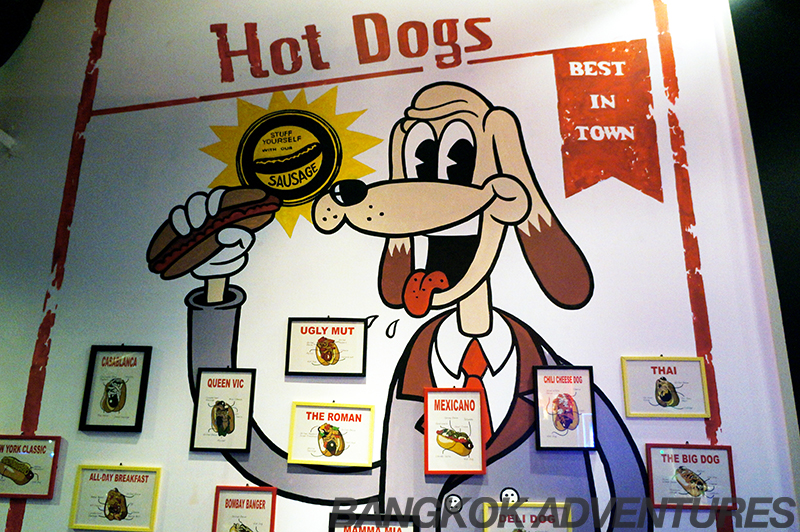 Moving from style to substance, we were pleasantly surprised at the imaginative menu with its wide selection of hot dogs and sausage-dogs – who knew there could be so many different hot dog combinations? All the classic hot dog combos are here as well as some interesting fusion dogs like the Casablanca (moroccan lamb sausage, cucumber-mint yoghurt, mild harissa, and red onion – 220 baht) and the Thai (sai kirk essan, jim jeaw mayo, and grilled onion – 170 baht).
We tried a handful of items from the menu during our Meetup, and have since been back to try several others, including the Rule Britannia sausage dog (cumberland sausage, onion gravy, English mustard – 180 baht) and the New York classic hot dog (sauerkraut and mustard – 150 baht). They were saucy, juicy and the just the right amount of sloppy to make them perfectly satisfying.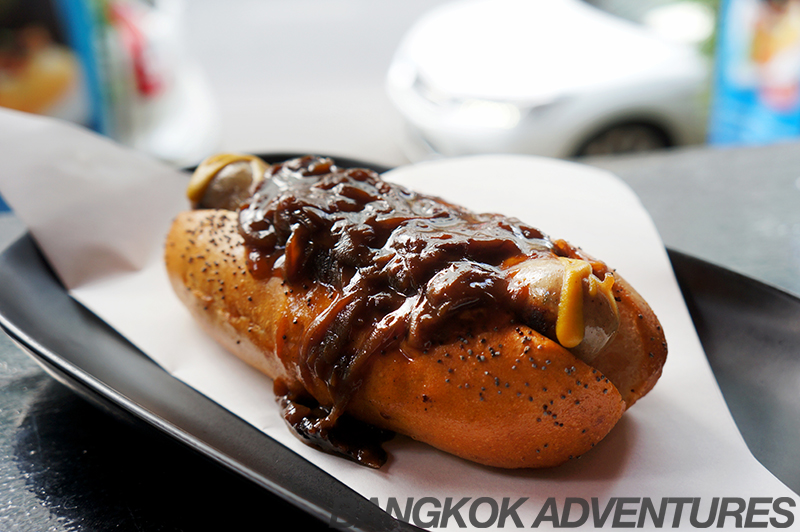 If buns aren't your thing, the Cup o' Bangers & Mash combines the cumberland sausage and onion gravy on a bed of mashed potato, and don't let the word 'cup' fool you – combine this with a side of fries or a milkshake and it quickly goes from a tasty snack to a delicious meal.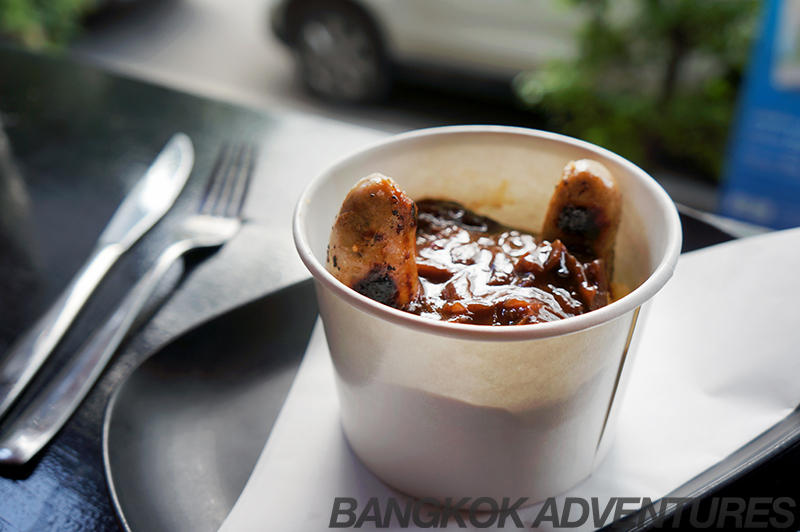 The sausages impressed us too – a good hot dog should be dense, meaty, juicy and have a casing that snaps when you bite it. The sausages at bangers tick all these boxes and do so with a well seasoned flavour.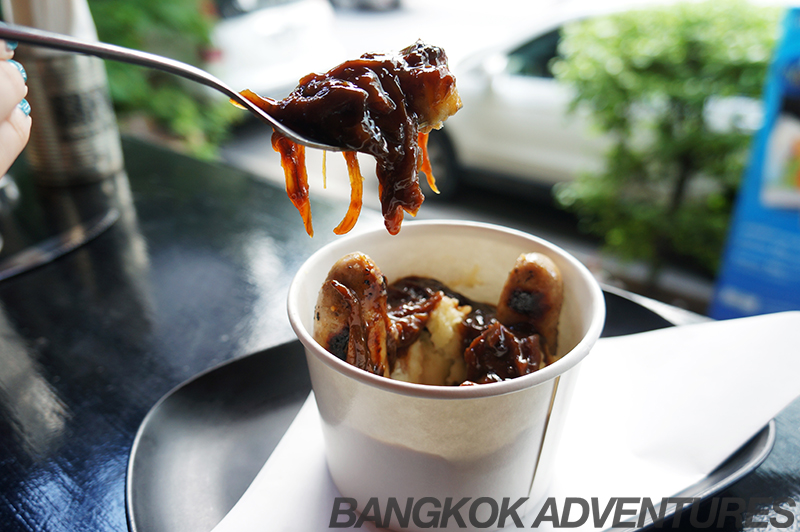 Rounding off the Bangers menu is a big bowl of chilli-cheese fries and a list of shakes that have had us going back for more. Not only do they offer the classic milkshake flavours alongside coffee, butterscotch, and chocorange (140 baht for regular, 180 baht large), but they also offer an option to lace them with liqueur too (add 120 baht).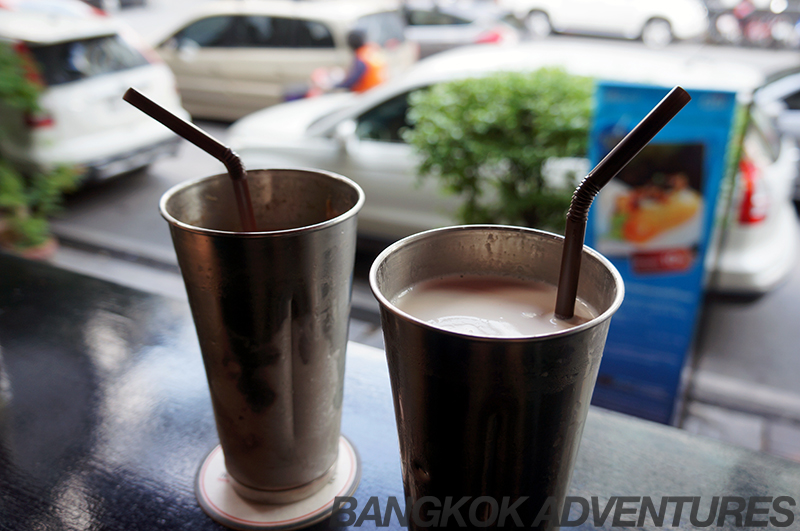 If you are worried that the thick alcoholic shakes might fill you up too quick then why not check out Bangers variety of European imports and craft beers?
The next time you have a craving for hotdogs in Bangkok you'll find Bangers on Soi Thonglor, Sukhumvit 55 – between Thong Lor 7 & 9. – opposite the 'Ei8ht' Thonglor mall.